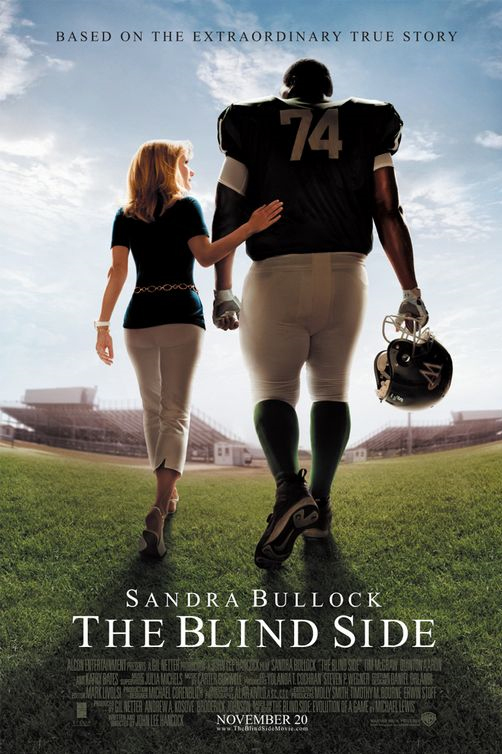 Sandra Bullock – Leigh Anne Tuohy
Tim McGraw – Sean Tuohy
Kathy Bates -Miss Sue
Quinton Aaron – Michael "Big Mike" Oher
Lily Collins – Collins Tuohy
Jae Head – Sean "S.J." Tuohy, Jr.
Ray McKinnon – Coach Cotton
Kim Dickens – Mrs. Boswell
Adriane Lenox – Denise Oher
IronE Singleton – Alton
Catherine Dyer – Mrs. Smith
Based on the book The Blind Side: Evolution of a Game by Michael Lewis, the film tells the story of Michael Oher, a homeless teenager who gets accepted into a Christian school on the grounds that he may be good at sports, being the only black kid in school leaves him isolated until he is befriended by SJ.
Seeing "Big Mike"  walking in the rain in just a t-shirt and pants, SJ's mum, Leigh Anne Tuohy (Sandra Bullock) takes pitty on him and offers him a place to sleep for the night, the start of Michael's adoption into the family.
Along the way we discover that Michael isn't the stereotypical dumb brute that his teachers have pegged him as, just neading additional help to release his intelligence and Leigh Anne Tuohy's pep talk on the football field to unleash his prowess there.
The film has been accused of being racist, another example of the "magical-negro" stereotype, and while I suppose this may be the reason the film was made (although probably not intentionally) you'll have to judge for yourself what the real motivations of the story were.
A more important question is asked towards the end of the film, where the NCAA (National Collegiate Athletics Association) investigate Michael's scollarship to the University of Mississippi and whether his adoption by the Tuohy's has a more sinister side – was he adopted and the effort put in to boost his educational grades purely to boost the "Ole Miss" football team.
This film  is a heartwarming character piece, a bit slow in places (as such films generally are), with a realistic humour to it. Unless you analyse it to the extreme it isn't racist, but it does come over as a "party political broadcast" on behalf of the Tuohy family protesting their innocence, you can only hope that the truth does in fact live up to the story portrayed on screen.