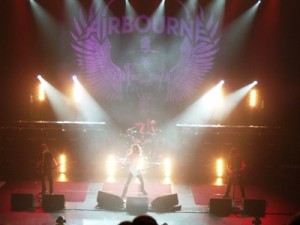 AC/DC had Bon Scott and Angus Young, the rest of the band (visually) faded into the background, the heirs to the throne Airbourne, have Joel O'Keeffe a frontman infused with the ghost of Scott and the spirit and energy of Angus.
Erupting onto the stage with 'Raise the Flag' the crowd immediately roused out of the stupor induced by the two support bands and the stage was set  for an hour and a half of high energy rock. With hardly a pause for breath Airbourne powered through their set.
Halfway through 'Girls in Black', the band go into an instrumental as Joel jumps off the stage to run the length of the front row, playing all the while. Next thing he's disapeared, we can still hear his guitar, but he's disapeared into the crowd. A moment later he's back, not on stage but coming down the aisle in the circle across the front row of the balcony and out through the emergency exit stage right!!!
Back on stage the energy never seems to dim whether leaping from the drum riser or rocking from the top of the amps, O'Keefe is never still, behind the mic for just enough time to belt out the lyrics before he's off again.
Just when you think things can't get any better 'No Way But the Hard Way' lights another fuse and the crowd errupt somehow finding a hidden reserve as the band leave the stage with 'Too Much, Too Young, Too Fast'
The pause before the encore is brief, the rest of the band starting a heavy riff and getting a little limelight before O'Keefe leaps back onto the stage with renewed energy to lead the band into 'Runnin Wild' and the final number 'Stand Up For Rock 'N' Roll'