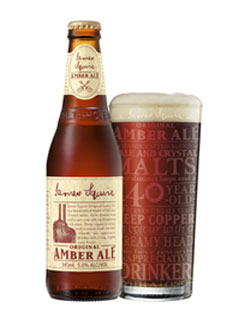 Suprisingly in a colony of  lager drinkers, the Malt Shovel Brewery have come up with a range of decent ales under the James Squire brand.
The first I tried, the Golden Ale, immediately reminded me of Wychwood's Circle Master (although obviously it's hard to make a direct comparison not having the English ales here with me). The Amber Ale comes in somewhere between Goliath and Fiddler's Elbow and the Porter can see Hobgoblin somewhere in the distance.
Convicted of Highway Robbery and sentenced to transportation in 1785, James Squire was later caught stealing ingredients for brewing beer, the brew was that good that he was given a lenient sentence of a five pound fine and three hundred lashes.
By 1806, having completed his sentence and settled in Australia, he had established an estate of 1000 acres, and succesfully farmed the first Australia hops (and was given a cow by way of reward).
It was at this time that he built the Maltings Shovel Tavern half-way between Sydney Town and Paramatta serving the busy trading route along the Paramatta River.
Historian, Philip Greaves, wrote at the time: "Sailors of many nations who were vague about the locations of Nineveh or Babylon could find their way to Squire's in a thick fog."
From his criminal beginnings James Squire ended his life as a District Constable, banker and philanthropist.