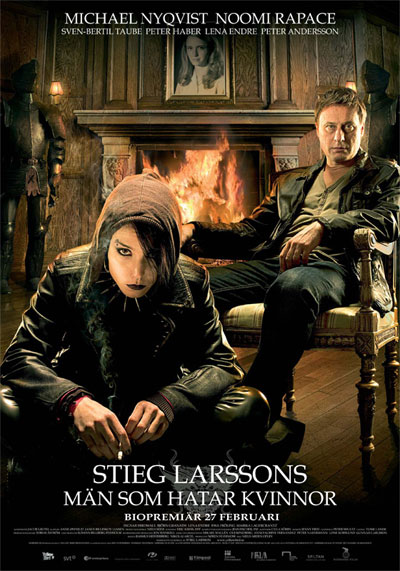 Michael Nyqvist – Mikael Blomkvist
Noomi Rapace – Lisbeth Salander
Sven-Bertil Taube – Henrik Vanger
Peter Haber – Martin Vanger
Marika Lagercrantz – Cecilia Vanger
Lena Endre – Erika Berger
Björn Granath – Police Inspector Morell
Ingvar Hirdwall – Dirch Frode – Henrik's lawyer
Peter Andersson – Bjurman
Michalis Koutsogiannakis – Dragan – Lisbeth's boss
Ewa Fröling – Harriet Vanger
Gunnel Lindblom – Isabella Vanger
Gösta Bredefeldt – Harald Vanger
Stefan Sauk – Hans-Erik Wennerström
Jacob Ericksson – Christer Malm
Sofia Ledarp – Malin Eriksson
David Dencik – Janne
Well, the first thing you need to know about this film, and something I didn't realise before it started, it's in Swedish. Luckily someone was kind enough to add subtitles.
Having lost a libel case and waiting to be sentenced Mikael Blomkvist is asked by wealthy industrialist Henrik Vanger to investigate the disapearance (and supposed murder) of his neice Harriet over 40 years ago.
In the mean time, tattooed and pierced punk hacker Lisbeth Salander (who for reasons that escape me is investigating Blomkvist) has been assigned a new guardian to oversee her financial affairs due to problems in her youth. The new guardian only releases money to her after brutally and sexually abusing her.
The two tales run side by side without connection until  Lisbeth decodes a message that she ransacked from Mikael's computer and she joins him in his investigation.This leads to the discovery of a string of horrific unsolved murders across Sweden that Harriet had discovered just before her disapearance.
Once you get used to reading the subtitles, the film opens up into a gripping thriller that hopefully won't be ruined with the planned Hollywood remake. The world weary journalist and the emotionally scarred young hacker are made believable by the acting tallents of Michael Nyqvist and Noomi Rapace leaving you in no doubt as to the confusion both character's face as their relationship unfolds.
I'm looking forward to getting hold of the books (I assume they've been translated into English) and will be watching to see if they make the rest of the trilogy (in Swedish or not)